RAILROAD SAFETY FILM:
"Without Warning"
©The Angels on Track Foundation®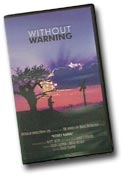 VHS - Approximately 24 minutes

In an effort to educate the general public on existing hazards at dangerous unprotected railroad crossings and to dispel the common belief that motorists are always at fault, The Angels on Track Foundation has produced Without Warning.

Based on circumstances that victims of preventable rail/highway collisions and motorists face each day when they are forced to cross over 96,000 public grade crossings in this country that are not equipped with protection devices, this film hopes to draw public awareness to the deplorable safety condition of our nations railroad crossings. Approximately 21% of public crossings have gates, while 61% are passive (unprotected). Private crossings, not regulated by states, often have no markings or protection devices.

By placing focus on the current condition of crossings, lack of protection devices, outdated safety equipment, and complacency on this issue, The Angels on Track Foundation hopes this film will be used as a tool to draw attention to the dangers that exist at all railroad grade crossings. Trustees of the Foundation hope that schools, driver's education instructors, public safety departments, or anyone interested in learning more about existing hazards at grade crossings, will call for a copy.
FILM ONLY - Send $5 postage/shipping
(Personal check/money order)
Include: name, complete address, phone number, email.
LESSON PLAN:
"Ohio's Dangerous
Railroad Crossings"
A One-Three Lesson Unit
On How To Save Lives
©Crossing To Safety®


Based on a balanced education message – one that recognizes "Bad Crossings Kill Good Drivers™", students are challenged and encouraged to become involved through disciplines such as history, economics, physics, mathematics, government (civics), and art. The objective of this Lesson Plan is to provide information that most people have not been exposed to, conduct research, undertake meaningful projects, and encourage students to become involved in citizen and/or public programs in their communities.

LESSON PLAN - $50.00 (Check/money order)
Include: name, complete address, phone number, email

YOU GET:
Film "Without Warning"
Instruction Manual for Lesson Plan
100 Brochures – "Why You Need a Heightened Awareness At Ohio's Railroad Crossings"
Various handouts