County Railroad Crossing Deemed Dangerous
Wilmington News Journal
By: JOHN CROPPER, Staff Writer
A Clinton County railroad crossing has been called "a dire safety hazard" and a "very dangerous intersection" by current and former railroad safety advocates, as well as by one Ohio foundation which works to make the nation's railways safer.
The crossing, on Stone Road near State Route 22, has been reported nine times to the Angels on Track Foundation as a "dangerous crossing" because of overgrown vegetation and a sharp angle which make spotting oncoming trains difficult, said Vicky Moore, founder of Angels on Track.
"There are no gates on this crossing, only a sign which acts as a yield sign," Moore said. "But how can you yield to something you can't even see?"
Ohio law says the owner of the railroad, Indiana and Ohio Railway (IAOR), is responsible for maintaining the visibility of the intersection "for a distance of 600 feet from the roadway." Numerous calls to RailAmerica, the parent company which owns the Indiana and Ohio line, were not returned on Wednesday.
Moore said the IAOR trimmed the overgrown Stone Road vegetation once in 2008 but it has since grown back.
The Clinton County Engineer's office said they attempt to contact railway owners whenever a complaint is filed about a crossing, but rarely is action taken.
"I'm not saying they never respond, but they are very hard to get a hold of," said County Engineer Jeff Linkous.
Of the 68 railroad crossings in Clinton County, 14 have been reported to Moore's organization, which is based in Salineville. Only one other crossing, on Starbuck Road, has been reported multiple times. Twelve have been reported once.
Twenty-one traffic accidents have been recorded at Clinton County crossings since 1990, according to the Public Utilities Commission of Ohio, which regulates railroad safety. In that time, only one accident occurred at the Stone Road crossing.
"Basically what we want to do is document the hazards, so if something happens, the people who are responsible for the railroad can be held accountable," Moore said.
To be sure, Moore has a reason to care about railroad safety.
Her son Ryan and two of his friends were killed in 1995 when a car he was riding in was struck by an oncoming train. Moore's other son, Jason, was driving the car, and he was "inching forward onto the track to get a better view" when a train struck the back of the car, she said. All three backseat passengers were killed.
"There were no gates on that crossing, either," Moore said. "Had there been a gate, my son would still be here today."
When someone submits a Dangerous Crossing Report on Moore's website, angelsontrack.org, a copy of the report is instantly sent to the two state agencies who regulate railroad crossing safety, the Ohio Rail Development Commission (ORDC) and PUCO.
Cathy Stout, a PUCO safety manager, said there are many criteria that her agency and ORDC use to determine if a crossing requires a gate, flashing lights or just a "crossbuck" sign similar to the Stone Road crossing.
"The number of trains in a day, the amount of traffic, the number of accidents at the site, among other things, are all factors in deciding [which crossings get gates]," Stout said.
Another factor is the number of school buses which cross the tracks each day, she said. The Federal Railroad Administration lists the number of daily bus routes which cross Stone Road as zero. But Jo Vance, supervisor of transportation for Wilmington City Schools, said one bus crosses the tracks twice every day. A transportation representative from East Clinton local school district said her buses normally cross the tracks too, but recently there have been no students living on Stone Road who use the bus service.
Bruce Beam was one of the Clinton County residents who filed a Dangerous Crossing Report for the intersection. A retired locomotive engineer of seventeen years, Beam said he cares "greatly about railroad safety, and so do railroad companies."
"That crossing is a dire safety hazard," he said. "People have to use extreme caution when crossing it."
Beam was driving to work along Stone Road early one morning in 2009. Because it was dark, Beam said he almost didn't notice that a train had stopped on the tracks until he came close to wrecking into it.
"You ever step on a pop can? That's exactly the sound it makes when a train hits a car," he said.
"You don't have much of a chance if you get hit. A few of us in this state are trying to make sure that no one is killed or maimed at these crossings," he said.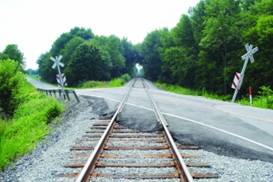 The railroad crossing on Stone Road where concerned
citizens say the vegetation along the rail's corridor is
too thick, making it a hazard to drivers. Nine
"Dangerous Crossing Reports" have been filed for the
intersection. (News Journal Photo/John Cropper)