Ohio ordered to develop railroad safety plan
State ranks high in accidents

WKSU Online

July 8, 2010

By: K. BHATIA
The Federal Railroad Administration is ordering Ohio to develop a plan to reduce accidents at railroad crossings. Vicky Moore, who lost her son in 1995 at an unmarked crossing, feels the mandate is long overdue.
In 1995, a Conrail freight train smashed into a car crossing the tracks in rural Stark County. Ryan Moore and two other teenagers died in the wreck. His parents, Dennis and Vicky, believe the accident could have been prevented had the crossing on Deerfield Avenue been marked with gates or warning lights. So, they established the Angels On Track foundation to help fund railroad safety upgrades.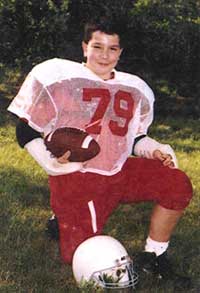 Ohio ranks seventh in the nation for railroad crossing accidents, with 37 fatalities from 2006 to 2008. But Moore notes that less than half of the state's 6,000 public railroad crossings are gated or lit. Expense is one factor, since railroads, not governments, determine the cost of installing safety warning equipment. And federal funds are awarded on what Moore feels is flawed reasoning.
"Each state has to come up with an accident prediction formula to choose which crossing gets gates. And unfortunately, part of that formula that they use includes fatalities. So only until so many fatalities happen at a crossing do crossings get gates."
Ohio has until next August to submit a plan to the feds for solving and identifying railroad crossing problems.